Information about Parts.cummins.com
Update Published: August 2, 2022
In 2017, parts.cummins.com launched as the Cummins online parts catalog with the goal of being the one source of truth for serviceable parts on all Cummins products. During those five years, parts.cummins.com and QuickServe's (QSOL) parts catalog have run in parallel. Starting in mid-July 2022 we will begin implementing a phased approach to turn off the QSOL parts catalog feature. After the change is made, users who attempt to open the QSOL parts catalog will be redirected to parts.cummins.com.
Details on the phased approach:
Global Users Outside North America:

July 20, 2022 - Latin and South America, Mexico
July 27, 2022 - Africa, Middle East, South Pacific, Japan and Korea
Aug 10, 2022 - CIS, India, East Asia, Southeast Asia, Europe
Internal and external users outside of North America will have access changed to parts.cummins.com only


North America Users:

August 24, 2022 - CSSNA legacy regions Central, Rocky Mountain Canada internal users and external users (customers and dealers) associated with these regions will have access changed to parts.cummins.com only
September 07, 2022 - CSSNA legacy regions Pacific, East, South, Gulf internal users and external users (customers and dealers) associated with these regions will have access changed to parts.cummins.com only
We want to ensure users that we have been diligent in addressing feedback related to site performance, ease of use, and quality of data. We encourage all users who are still utilizing the QSOL parts catalog to proactively make the move and become familiar with all that parts.cummins.com has to offer.
Cummins is currently taking or has taken these corrective actions:
Include option graphics and details
Allow option level search for dealer users and Cummins employees
Improve site performance and speed
More direct data feeds from Cummins manufacturing facilities than ever before; resulting in more accurate ESN results
Currently addressing issues with returning accurate results for kits and sets
What you need to know about the change:
QSOL is NOT going away. Rather, access to the parts lookup feature on QSOL is being removed as outlined by the dates above.
We will keep "PowerGen MBOM by serial number lookup" active on QSOL until the feature is made available on parts.cummins.com.
All other service-related information housed on QSOL will remain.
We will always monitor, and address issues raised by user feedback and help tickets; in fact, we rely on it to guide site improvement.
We once again encourage all users to proactively make the switch to parts.cummins.com for Cummins part searches. We are confident you will find what you are looking for.
________________________________________________________________________________________________________________________________________________________________________________________________
Update Published: February 10, 2022
In recent months we have been able to complete many features and improvements! It has been the users voices that have helped guide parts.cummins.com to be the awesome system we now have, and we are excited to continue delivering enhancements and never been seen before features!

The following list contains notable items that system users will notice.
Graphics are back! There are 12,000 more graphics in parts.cummins.com than QSOL, currently. Graphics are being added daily and at a pace of about 1,000 per month.

Training modules are in place and seeing updates as the system undergoes changes. Training modules are found in the Contact Us section under Need Training.

System speed is way up, with many little behind the scenes processes being streamlined, you will notice much improved system speeds.

Certain options from certain plants were not showing. This is sometimes "no content options" where people really only needed the option notes. We have made sure these options are now showing so the option notes are available.

Frequently Purchased Together feature is showing great success. This feature is empowering new salespeople to deliver a more complete parts offering.

The parts catalog is connected to more manufacturing plants than ever before in QSOL. This means less opportunity for an ESN to not return results.

Logic behind the kits and sets has been greatly improved.

Overhaul kits are in the kit and sets segment and do not require a special CPL search. When in kits and sets for an ESN, simply start typing overhaul into the search box to narrow the search results.

BOMs are loaded for many of the overhaul kits. This is exciting because it has been a difficult question for years and now parts.cummins.com can answer that question.

CUMPAS and the export Pick List feature is streamlined and does not require a daisy chain of events. Make sure you are logged in and you will see the button when viewing your Pick List.

Kits have been added to the bottom of all options the way they appeared in QSOL, not just pre 2015 like they were before. This helps to quickly look for a kit related to the option you are already navigating through.

There is a button on the option details screen that launches a user to the bottom of the screen, so they don't need to scroll to the kits at the bottom.

Behind the scenes we have scaled up our server capability to help make sure we have the fastest system possible. Reminder, in 2015 and newer ESN's we are always showing you the as-built data, and this is one of the greatest improvements parts.cummins.com offers.
Please continue checking here for more updates.
---
Archived Material - Additional navigation techniques have been added and the return of option graphics (exploded diagrams) is not captured in the training links below.
In the Media
Communications
Training Material
Update Published: June 22, 2020
We heard your voices and recognize the concern with the parts.cummins.com migration. We deeply value your opinions and your continuous partnership. In this spirit, we are temporarily rolling back, meaning the QuickServe Online parts catalog will be temporarily restored, to allow you more time to try the parts catalog on parts.cummins.com and provide further valuable feedback .
It is critical that you try parts.cummins.com first to identify any gaps in the available information, features or navigation. If you find a gap, report it through a help desk ticket. Help desk tickets can be submitted by clicking on "Contact Us" on parts.cummins.com and then Help Ticket.
Each help desk ticket is being added to a migration tracker and resolved as quickly as possible. Often, a single ticket corrects gaps for multiple products or options so your one ticket can have a big impact on the overall website.
The next migration is targeted for Mid-July , so don't delay getting familiar with the site. We are here to help, watch for training sessions coming shortly from your local distributor. Communications, training materials, tips & tricks, and FAQs can be found by clicking on the "Parts Catalog Migration" banner on QuickServe Online.
We recognize the immense impact to you and appreciate all the feedback shared. Thank you for being our continued partner and working together to migrate into the next generation parts catalog.
_______________________________________________________________________________
Update Published: March 31, 2020
In September 2018, we kicked off an effort to migrate users from QuickServe Online to parts.cummins.com, the next generation of parts catalogs. After receiving multiple improvement opportunity voices for parts.cummins.com, we slowed the original migration plan.
We have now implemented the improvements, performed an additional voice of customer with key stakeholders and analyzed the voices to determine that all required functionality is now in place. For more information, all current and legacy communications regarding the migration are available below.
On April 15, 2020 , all users who click on the Parts Catalog tab within the QSOL Parts tab will see a new landing page replacing the default catalog view. This new landing page will allow users to go directly to parts.cummins.com.
Here is a snapshot of what the screen will look like: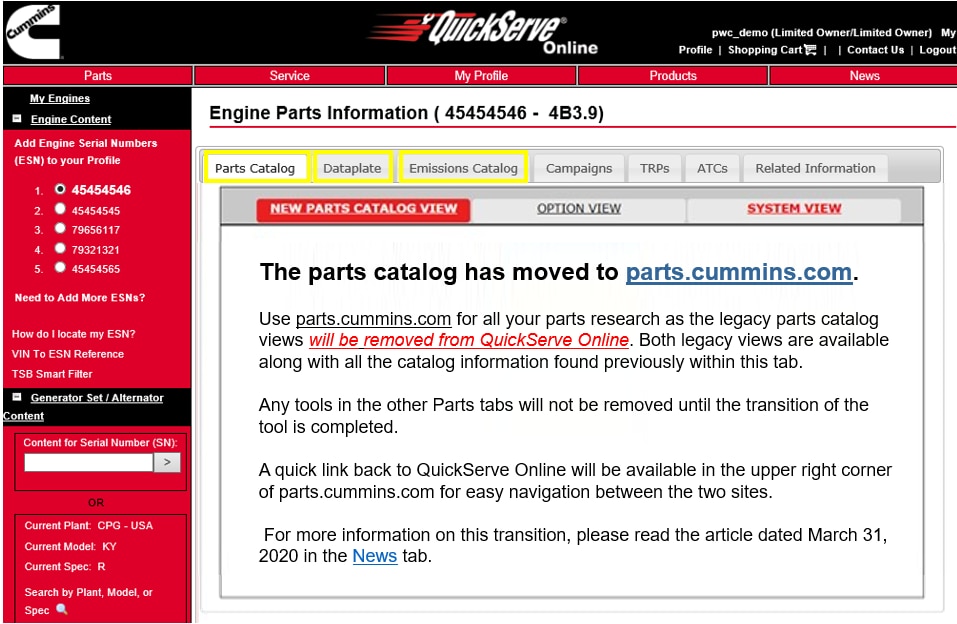 The legacy option and system views will remain a click away as we work on migrating users to solely using parts.cummins.com. The profile setting for swapping the default catalog view will also be disabled.
When we migrate a user group, the legacy catalog views will no longer be displayed on QuickServe Online. The order of migration will be as follows:
April 22, 2020 - Limited Owners Plan (LOP), Unlimited Owners Plan (SIR) and Parts Only
May 13, 2020 - Factory Employees, Supplier, Contractors and Joint Ventures
May 20, 2020 - Fleets, Customer In-House Repair/National Accounts, VoTech and OEMs
June 03, 2020 - Dealers
July 15, 2020 - Distributors (date updated)
Once the migration is complete, here is a sample of what the screen will look like: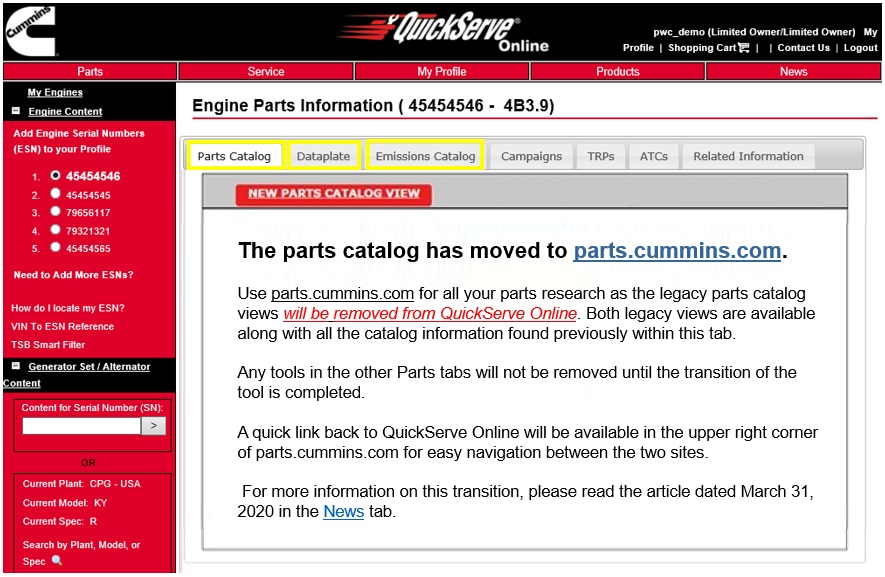 Along with the Parts Catalog tab changes, the Emissions Catalog and Dataplate within the Parts tab will also be removed during the migration as they have fully transitioned to parts.cummins.com.
In addition, the Cummins Power Generation - Bill of Materials search for Power Generation products will also be removed during the migration.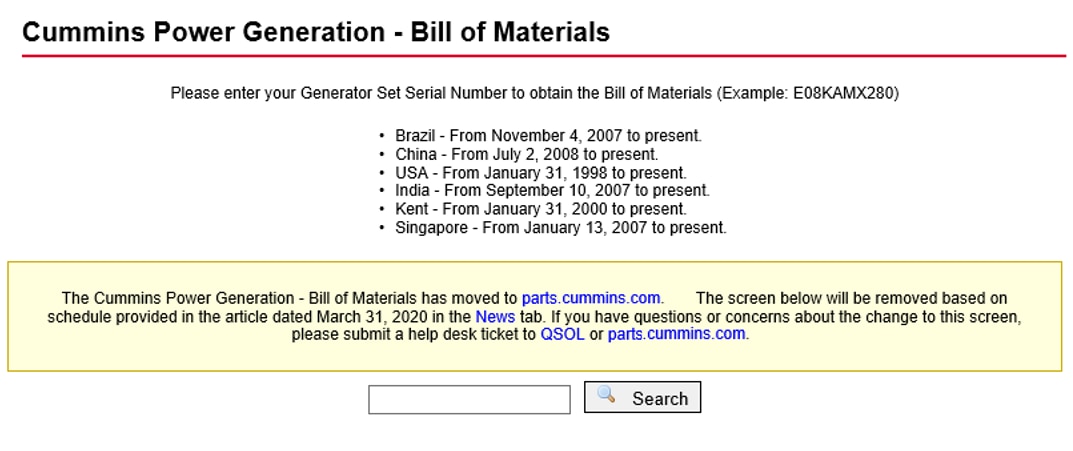 To assist during and post migration, training and previous communications are below. We understand that change can be a challenge and appreciate your support during the migration.
_______________________________________________________________________________
Article Originally Published: September 28, 2018
Before the end of Q3 2019, the Parts Catalog, Dataplate and Emissions Catalog tabs within the Parts tab will be transitioning from QuickServe Online to only on Parts.cummins.com.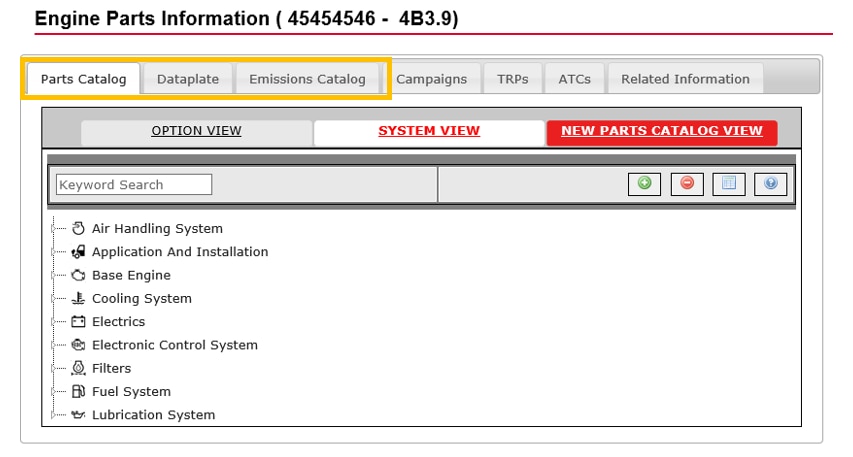 We appreciate change can be a challenge, but the advancements we now offer on parts.cummins.com will ease the transition by bringing immediate value never offered on QuickServe Online including:
One stop for all Cummins related parts and products including Engines, Turbochargers, Filtration, Emissions and Power Generation
English, Chinese, Russian, French, Portuguese and Spanish translations
Global search for any serial number, part number, part description or combination
Simple navigation for quick identification of the correct parts for your needs
Individual part graphics
Unique part detail pages with part dimensions, alternative part options including supersessions and applicable part related kits
Gasket sets, kits and sets content graphics displaying what is available within the part number
Save an Engine Serial Number to easily get back to the parts catalog
Ability to create a pick list that can be shared with any Cummins distribution partner
Mobile device ready
And more available to explore
Some functionalities on parts.cummins.com will be different than what was traditionally offered on QuickServe Online including:
QuickServe Online displays the service build for the engine - parts required to perform a repair. Parts.cummins.com offers a more in-depth view of the original engine and is based on the manufacturing build. This allows all parts used to build the engine to be identifiable and mapped to the service options available.
PP options on QuickServe Online are broken down into sub-options which can be clicked on individually to view the parts. PP options on parts.cummins.com are a single option with all the sub-options contained along with the parts.
Kits and Gasket Sets on QuickServe Online are available in the option list. Kits and Gasket Sets on Parts.cummins.com are available on the left-hand side for newer engines and still in the options for legacy engines.
During the transition, the QuickServe Online team will be actively communicating through messages on the impacted tabs notifying users that the change is within a few weeks and then a message once the transition is complete. Going forward, new features and functionality improvements will be added so keep checking back to see what's new.