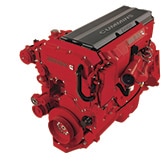 Power to Get the Job Done! Whether your customer is climbing a mountain in an 18-wheeler or moving a mountain with a bulldozer, Cummins ReCon Heavy-Duty engines will handle the job with power to spare. Cummins offers factory remanufactured Short Blocks, Long Blocks and engines for Cummins L10, M, N and X engine platforms. In fact, more fleets and owner/operators are switching from major overhauls to Cummins ReCon engine options than ever before and with good reason. First, they look at the real cost of a major overhaul, including downtime, machine shop delays, unexpected repair charges and warranty exposure. Then, they look at the ReCon engine exchange option.
With ReCon engines, your customer will get much more than an overhaul. Every part is completely disassembled down to the last nut and bolt. Then, each individual piece is thoroughly cleaned and inspected. Parts that cannot be restored to Cummins specifications are replaced with genuine Cummins parts. Critical wear parts such as pistons, rings, bearings, bushings, seals and gaskets are replaced with genuine Cummins new parts every time.
To assure quality and reliability, every engine must pass a series of 350 rigorous quality checks and inspections. After final assembly, computerized engine test cells guarantee like-new performance. Every engine must pass the same horsepower, torque and 25 other vital functions as brand new Cummins engines. In fact, the testing equipment at the end of the ReCon engine production line is identical to the equipment used to test new Cummins engines.
Specify Cummins ReCon Engines when it's time for your customer's next major overhaul. You'll be glad you did!
Features


Factory remanufactured to meet Cummins new engine performance specifications.
100% parts replacement using only genuine Cummins new and ReCon parts.
No hassle core exchange with no disassembly and no surprise billbacks.
Free horsepower upgrades - Example: Trade BCIII 300 for BCIII 400 at no charge.
Free performance upgrades - Example: Trade L10 non-OAC aftercooled engines for L10 OAC at no charge.
Low-cost technology upgrades - Example: Trade BC3 for 94N14 and get a fuel economy and performance payback.
Fast turnaround - You're back on the job much quicker than with a rebuild, with no risky machine shop repairs or unexpected delays.
Global warranty support from the largest and best independent service network in the world
Extended warranty coverage options are available at a reasonable price (same options available for Cummins new engines).