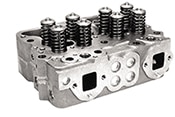 The Cummins Difference Is Genuine. Delight your customers with the quality of Genuine Cummins ReCon cylinder heads. Every ReCon cylinder head is remanufactured to the latest Cummins specifications using only genuine Cummins parts. This is vital because some after-market products "look" genuine, but service life may be shortened by inferior materials, obsolete processes and out-of-date specifications.
The Highest Quality. Many aftermarket suppliers do not meet the stringent quality standards set by Cummins. For example, the material used to manufacture Cummins cylinder heads contains carbon, silicon and copper. Its high tensile strength and close grain structure result in a stronger, fatigue-resistant casting. This proprietary information is not available to our competitors. Valves provide another example. Valve cores that fall outside Cummins specifications are chromed. Once completed, the valve is not only as good as new, it's better than new. As an added assurance, many parts are replaced with brand new genuine Cummins parts regardless of condition, including all valve guides, injector sleeves, collets and spring retainers.
The Latest Technology. Experienced technicians use computer-controlled equipment to restore critical tolerances. The combustion surface on every head is precision ground to assure proper sealing. All valves are tipped, roller burnished and chromed if necessary. Valves that do not meet Cummins specifications are replaced with brand new Cummins valves. Injector sleeves are installed metal to metal (no sealants to mask possible defects) using an automated process that eliminates human error while guaranteeing precise injector protrusion.
Extensive Testing. Every ReCon cylinder head is pressure tested twice to ensure there are no internal casting defects in the water jackets or fuel line jackets. Automated vacuum testing on every valve assures proper seating to help eliminate leaks. We find the leaks in the factory so you won't find them on your engine.
The Best Warranty. Cummins quality is backed by the largest and best independent service network in the world -- Cummins. Core exchanges are based on a simple visual inspection. It's fast, easy and you know the total cost up-front. No "surprise" bill-backs. It all adds up to the best product and program available for your customers.